PRESIDENT : PHILIP YAM

Philip Yam is the editor-in-chief of the website for the Simons Foundation, which funds  research in the basic sciences and mathematics—think origin of life, string theory and neuroscience. Previously, he was managing editor, online, for Scientific American, responsible for the site's overall digital content as well as other special editorial products. He cut his journalism teeth as a reporter for the Cornell Daily Sun before taking on roles at Scientific American as a copy editor, features editor specializing in physics and then as news editor. He is also the author of the 2003 book, The Pathological Protein: Mad Cow, Chronic Wasting, and Other Deadly Prion Diseases, which he should have named "Cannibalism's Revenge," but oh well. Follow him on Twitter @philipyam.
VICE PRESIDENT: HANNAH BAE

Hannah Bae is a freelance journalist and illustrator based in Brooklyn, New York. She is currently exploring her obsession with Korean food through her writing and hand-drawn illustrations for EatDrinkDraw.com, the site she runs with her husband, Adam Oelsner. In addition to reporting on topics including travel, business and all things Korea, Hannah is a digital news and social media specialist for hire. Her clients include Getty Images, Quartz and Thrillist. She previously worked full-time for organizations such as CNNMoney, Newsday and the U.S. Embassy in Seoul, South Korea. She is the vice president of AAJA's New York chapter and a graduate of AAJA's Executive Leadership Program. Prior to serving as AAJA NY's vice president, she was AAJA-Asia's vice president for Seoul and AAJA NY's social media chair.
TREASURER: KRISTINA BUSTOS

Kristina Bustos has a diverse background as a freelance journalist. She got her start as a freelancer in Milwaukee where she covered local events and restaurants for a community newspaper. She jumped right into the fashion world after moving to New York six years ago. She managed the fashion and beauty blog The Blay Report, where she was instrumental in the blog receiving recognition from the British Vogue. She also was a fashion a contributor for Essence, Honey and Asian-American magazine, Audrey. She is currently a freelance entertainment reporter at Hearst UK's Digital Spy for the last three years. Additionally, she contributes for Paste Magazine, The Riveter and The Couch Sessions. Follow her on Twitter: @krisbustos.
SECRETARY: HEATHER CHIN

I have spent the past six years working as an editor and reporter in Brooklyn community news and am currently the editor of Fort Greene Focus, an online community newspaper that serves the Brooklyn communities of Fort Greene and Clinton Hill. I previously served as web editor, general assignment reporter, and magazine editor of the Home Reporter and Brooklyn Spectator newspapers and magazine — covering Bay Ridge, Bensonhurst, Bath Beach, and Sunset Park. Prior to that, I was a health intern at the Philadelphia Inquirer, and worked in publishing, editing illustrated educational workbooks geared towards 3rd-6th graders for a New York-based Korean publisher. I studied health reporting at the CUNY Graduate School of Journalism and graduated with a BA in English and Rhetoric from SUNY Binghamton.
NATIONAL GOVERNING BOARD MEMBER: SHIRLEY NG-LEW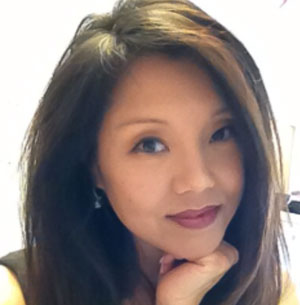 Shirley was in college when I discovered AAJA in the yellow pages phone book. Honest. After an initial telephone call to ask, "What is AAJA? I became a member. I was studying broadcast journalism at the time. At the moment I'm not working in the industry, but hope to again someday. I'm focusing on being a multi-platform journalist and the writing opportunities through AAJA has taught me digital skills that I otherwise would not have learned on my own. I've been most active in the last five years of AAJA to make an impact for my chapter and to also build relationships with my fellow members. After all, it is about networking, networking and networking. That's what they say at AAJA conventions! I have met so many incredible and talented people that I've learned from that I'm very happy to call them my friends.
NATIONAL GOVERNING BOARD MEMBER: JULIANNE CHIAET

Julianne Chiaet is a freelance journalist based in Montclair, NJ. She mostly covers health, medicine, and biology. She occasionally writes about other subjects, such as Japan, Bitcoin, and culture. She has been published in The Daily Beast, Scientific American, and DailyMail. Julianne is a regular contributor at Labroots. Find her at jchiaet.com and follow her at @JuliChiaet.
WEBMASTER: EMILY TAN

Emily Tan is a freelance writer, photographer and web producer based in Jersey City, N.J. She covers all things women, food, pop culture, music and technology. She's been published in the Seattle Times, AOL, Yahoo! News, CMJ, Spinner, PopEater, Metro and the International News Safety Institute. Currently Emily contributes to various sites including TheBoomBox.com, MySpace, Mode, PopCrush and the Village Voice. She does web production for the Simons Foundation. Find her on emilyvtan.com and follow her @cessemi.
STUDENT REPRESENTATIVE: KELLIE ELL

Kellie Ell joined AAJA after living in South Korea for several years and working for the Institute of Basic Science on its communications team. Now based in New York City, she has also worked as a multimedia journalist in San Francisco, Washington, D.C., and Nebraska with her work appearing in the San Francisco Chronicle, Oakland Tribune, Women's Wear Daily, City Limits and more. Kellie decided to return to CUNY's Graduate School of Journalism to learn about data journalism and coding which she hopes to pursue in the future. Follow her on Twitter @KellieAutumnEll or KellieEll.com.